3 février 2023
|
PARTAGER :
Par Raffaela Siniscalchi - Agente de développement numérique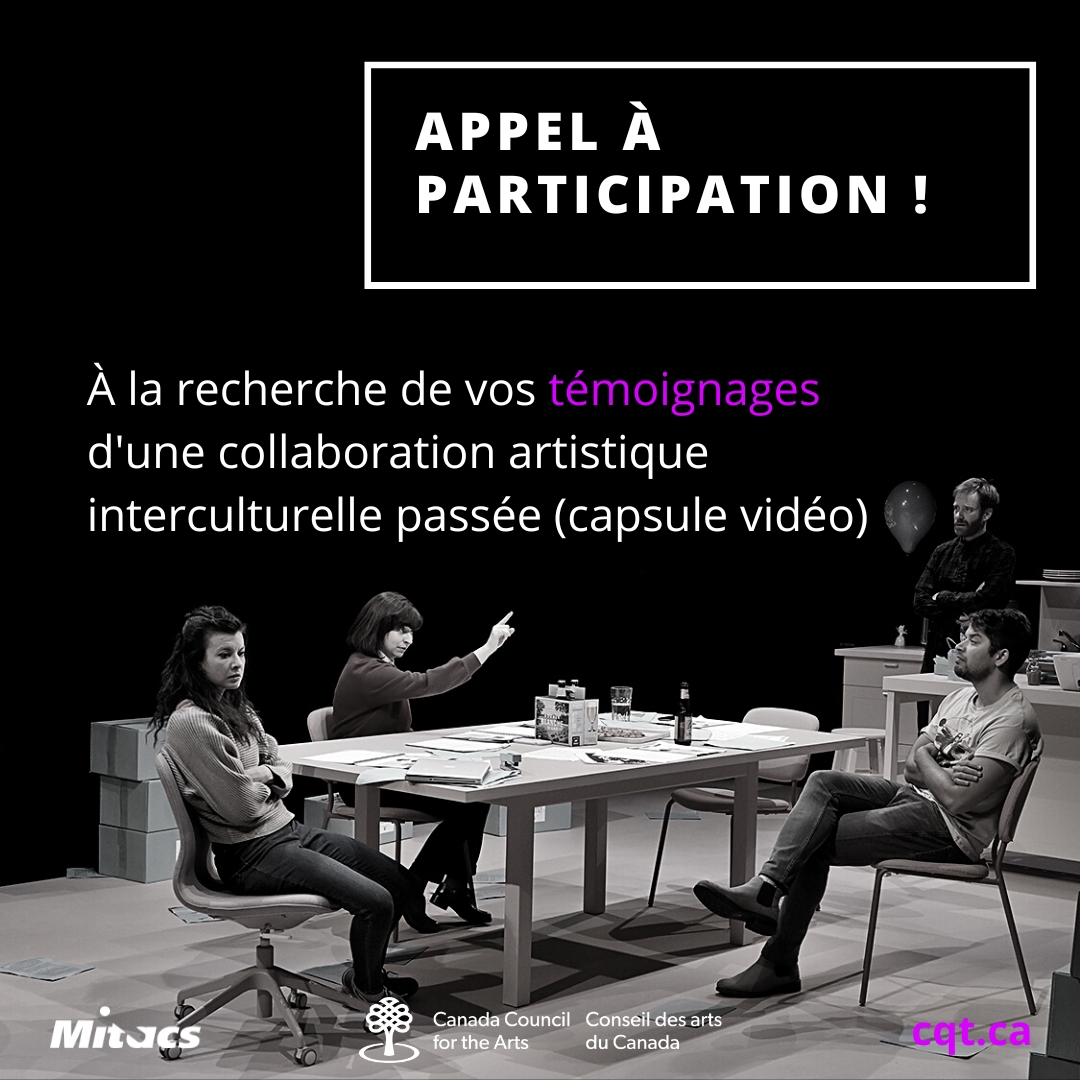 As part of an initiative to produce a toolkit for artists and representatives of cultural organizations across all cultural communities, the CQT would like to create a short video in which people from the Quebec theatre community (in design, interpretation, promotion, administration, etc.) share a positive experience from a past intercultural artistic collaboration. The call is also open to companies. Note that the CQT will form a jury for content selection.
Main objectives of this project:
● Encourage meetings and work involving different cultures in theatre
● Stimulate reflection on proposed approaches to creativity
● Reveal possible sensitivities
● Show the challenges that may arise in the process
● Highlight the richness of the creative process based on dialogue
● Transit promising ideas and inspiring examples of collaboration
Presentation file
Presentation of the person who will testify about the project being discussed (maximum 1 page)
Answers to the following questions:
What are the main challenges of this artistic meeting/collaboration? (maximum 15 lines)
What were the strengths of this collaboration? (maximum 15 lines)
What unsuspected doors opened? (maximum 15 lines)
In light of this artistic collaboration, what would be the most valuable piece of advice to share with your colleagues who are undertaking a project of this kind (maximum 15 lines)
A word to describe the creative process? (maximum 1 word)


Please note that you can submit your proposal via WeTransfer, in video format, which should not exceed three minutes. We ask that you respond orally to the questions mentioned above.

The videos received will be used exclusively for evaluation purposes by the jury and will not be published.

Selection criteria

● The person who will testify in the video must be a member of CQT or work at a CQT member organization.
● The artistic project in question must have been presented publicly in Quebec within the last 5 years.
● The project must have brought together at least two different "cultures".
● Despite the challenges experienced, the project must have led to an enriching collaboration for all involved and represented a stimulating example for the theatre community.
● Sensitivity and relevance of the proposal.
● Richness and quality of the creative process and the dialogue established.
● The project has the potential of inspiring the implementation of similar initiatives .

Terms of collaboration
The terms will be specified at a later date in a written agreement.
Filming will take place in the first half of March 2023.
$400 will be offered to each of the 3 individuals/companies whose proposals are selected.
Transmission of proposals
The file must be sent as a Word document, no later than February 12, 2023, by email to following address:
developpement@cqt.qc.ca
.